May 5, 2021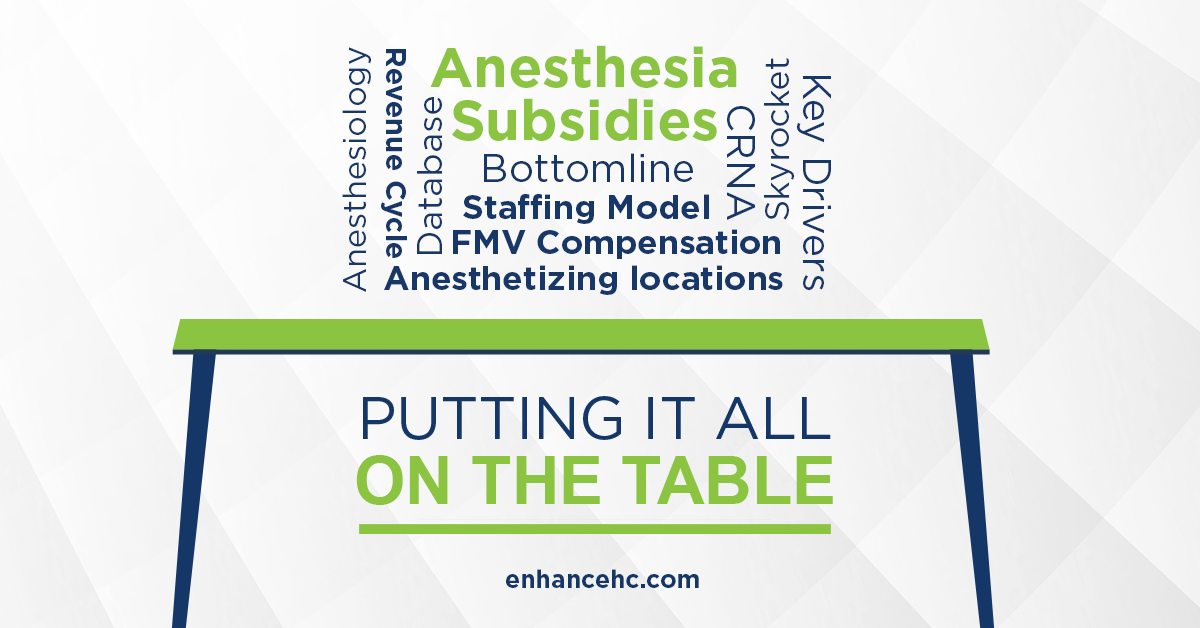 Hospitals are experiencing a dramatic increase in requests for financial support of their anesthesia service providers, a situation which has been exacerbated by the pandemic. The Enhance Healthcare database, which contains over 120 hospitals, shows the average subsidy per anesthetizing location skyrocket to $185,000 for contracts signed in the last 3 years, a dramatic 30% increase from the $132,000 per anesthetizing location the 3 years prior. This frequently puts total hospital subsidies in the millions or tens of millions of dollars in annual subsidy, enough to meaningfully impact the facility bottom line.
The factors that affect anesthesia subsidies include:
Fair Market Value Compensation
Required Staffed Anesthetizing Locations
Anesthesia Staffing Model
Anesthesia Revenue Cycle Performance.
Armed with an understanding of the key drivers of anesthesia subsidies, hospitals and anesthesia groups should be better equipped to proceed with data driven negotiations. Both sides must acknowledge that the relationship between a facility and its anesthesia partners is mutually dependent. A hospital can't remain viable without anesthesia services. Anesthesia groups cannot function without the cases brought by a facility's surgical staff. Establishing this perspective early on will help to address each of these factors.
While  support of anesthesia services is often impactful to the bottom line, when both parties utilize a data driven framework and create an aligned support structure, a stronger partnership is created.
Over the next few weeks, our "Anesthesia Subsidies" series will provide a framework of how each of these factors affect the amount of anesthesia financial support required. These factors are also considered the "Four Legs" of anesthesia subsidies. Each factor should be isolated and analyzed as subsidies are being negotiated.